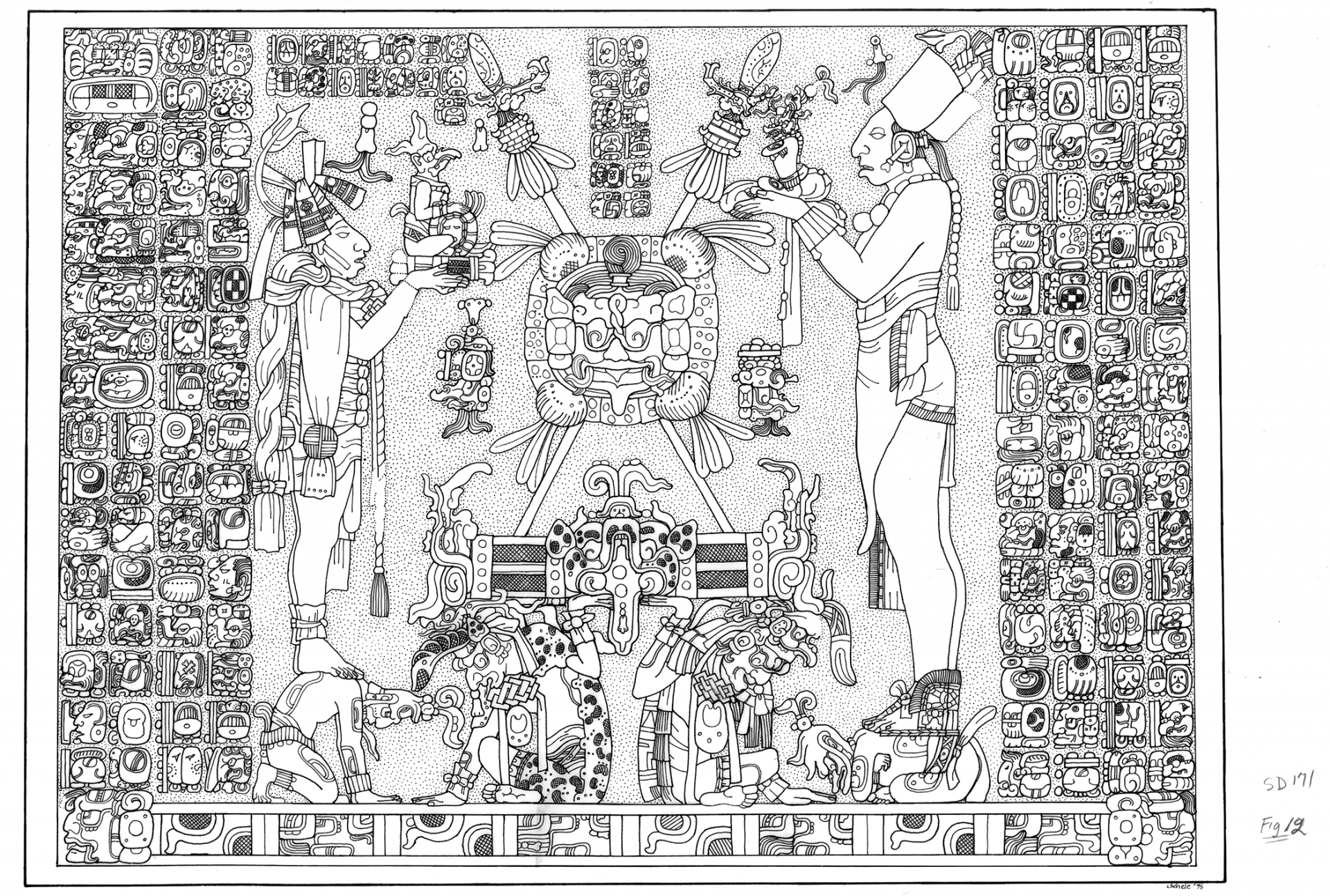 Drawing of Interior Panel from Temple of the Sun
Artist
Date
1975
Medium
Black ink on mylar
Object Dimensions
11 x 17 in
Object Collection
Object Number
SD-171
Bibliography
L. Schele, "Accession Iconography of Chan-Bahlum in the Group of the Cross at Palenque." In Art, Iconography & Dynastic History of Palenque, Part III, Proceedings of Segunda Mesa Redonda de Palenque; 1976: Fig. 12
Schele, Linda, and David A. Freidel. 1990.  A Forest of Kings: The Untold Story of the Ancient Maya. New York: William Morrow and Company, Inc.: 234-261, Fig. 6.13
M. Cohodas, "Iconography of the Panels of the Sun, Cross, and the Foliated Cross at Palenque: Part III." In Art, Iconography & Dynastic History of Palenque, Part III, Proceedings of Segunda Mesa Redonda de Palenque; 1976: 159, Fig. 2
Notebook for the XVIth Maya Hieroglyphic Writing Workshop 1992: 177-198
Rights and Image Use
This drawing collection is protected by copyright. The drawings contained in this archive are freely available for scholarly study and academic publication. Please contact LACMA's Rights and Reproductions Department at pseverance@lacma.org for written permission and publication-quality image assets.
Site Found
Chronological Period
Culture
Subject Type
Panel, Tablet
Subject Institution/ Collection
at site
Description
Panel from the Temple of the Sun. Both text and image rest on a double-headed band decorated with earth symbols. The smaller person at left stands on a kneeling figure who is decorated with marks that identify supernaturals. The left-most person holds a Jester God/Personified Flint figurine that rests on a tiny bench. The person on the right side of the panel stands atop a kneeling supernatural decorated with "k'uhul" (god) symbols. This larger person offers a K'awiil figurine. At center, God L (left) and an unidentified god hold aloft a large bench embellished with jaguar and serpent motifs. Atop the bench are two crossed lances and a shield decorated with the face of G-III. Glyphs recording supernatural locations flank the shield.
Notes or Gallery Text
The text at left records events in mythological time and the right-most text describes historical events.
Tags