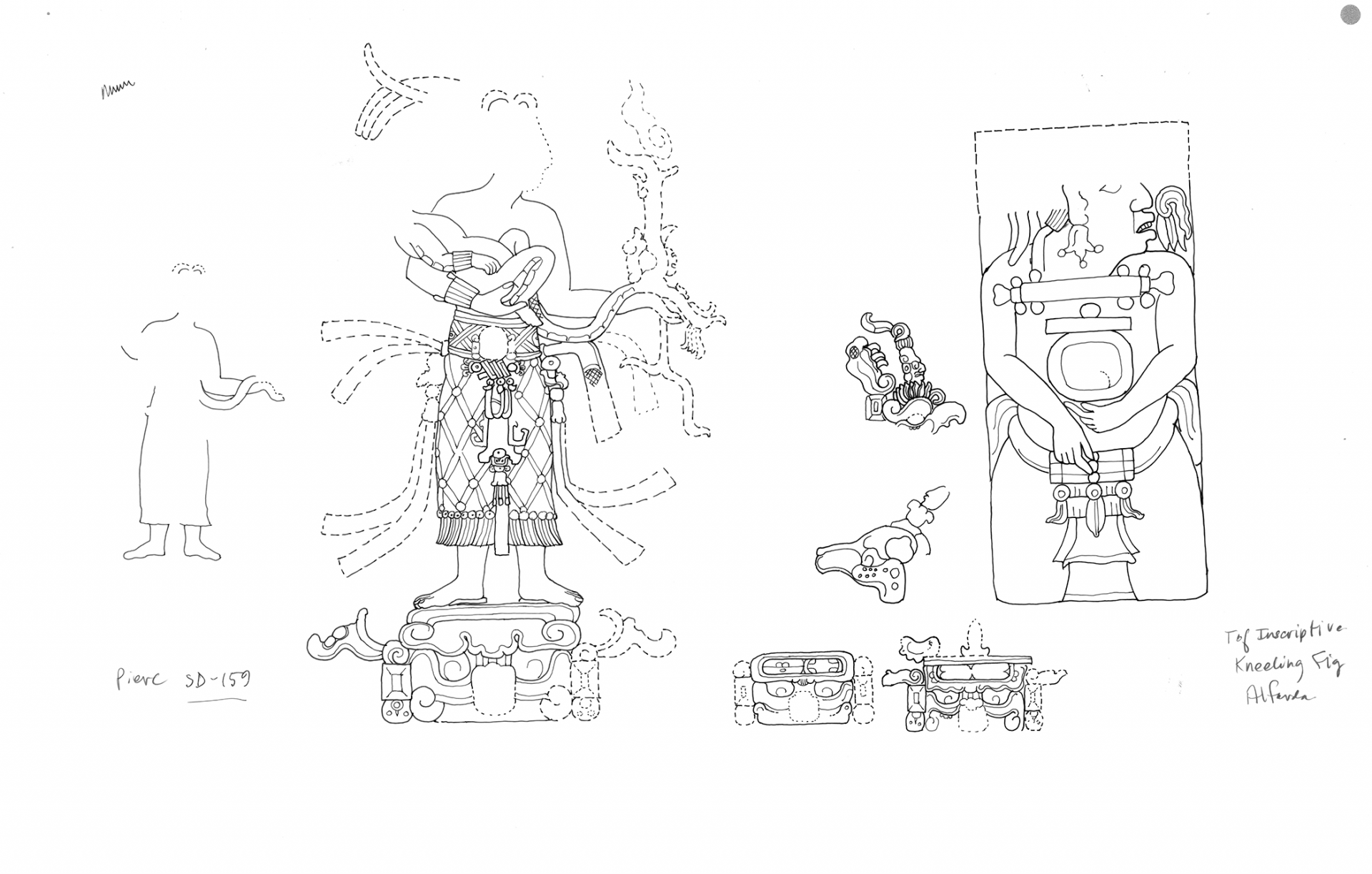 Composite Drawing Depicting Standing Figure from Pier and Kneeling Figure from Alfarda
Artist
Medium
Black ink on mylar
Object Dimensions
11 x 17 in
Object Collection
Object Number
SD-159
Annotations
Pier T of Inscriptions; Kneeling Fig Alfarda
Bibliography
Schele, Linda, and Peter Mathews. 1998. The Code of Kings: The Language of Seven Sacred Maya Temples and Tombs. New York: Scribner: 8: 100-101, Figs. 3.6 & 3.7;
M.G. Robertson, The Sculpture of Palenque Vol. 1, 1985: Plates 39, 63 & 77
Rights and Image Use
This drawing collection is protected by copyright. The drawings contained in this archive are freely available for scholarly study and academic publication. Please contact LACMA's Rights and Reproductions Department at pseverance@lacma.org for written permission and publication-quality image assets.
Site Found
Chronological Period
Culture
Subject Type
Stair, Alfarda
Subject Institution/ Collection
Palenque, Temple of the Inscriptions
Description
Image composed of several details from various locations, including Pier C and East Alfarda from Temple of the Inscriptions. The leftmost drawing appears to be a preparatory sketch for the complete drawing of the figure from Pier C (2d from left) who wears a net jade-bead skirt and holds a child with K'awiil attributes. The two small headdresses are from Piers B and C, respectively; the drawings below them represent the Quadripartite God bases from Piers D and E.
Notes or Gallery Text
The figure on the East Alfarda wears a pectoral with the Number 6 and a daysign cartouche.