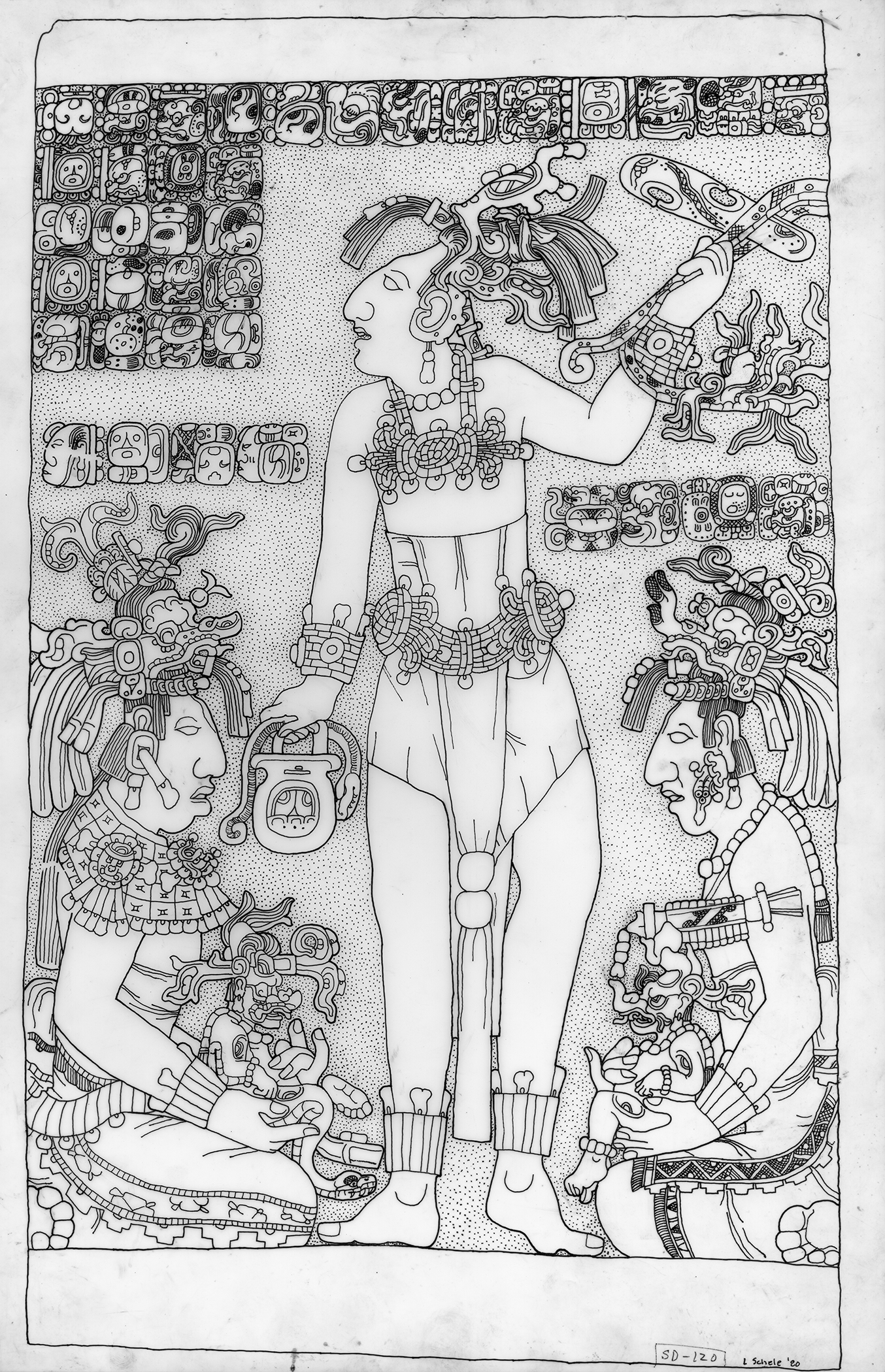 Drawing of Dumbarton Oaks Palenque Panel
Artist
Date
1980
Medium
Black ink on mylar
Object Dimensions
11 x 17 in
Object Collection
Object Number
SD-120
Bibliography
Maya Iconography 1980:309
Schele, Linda, Mary Ellen Miller, and Justin Kerr. 1986. The Blood of Kings: Dynasty and Ritual in Maya Art. New York: G. Braziller: 275, fig. VII.3
Rights and Image Use
This drawing collection is protected by copyright. The drawings contained in this archive are freely available for scholarly study and academic publication. Please contact LACMA's Rights and Reproductions Department at pseverance@lacma.org for written permission and publication-quality image assets.
Site Found
Chronological Period
Culture
Style
Panel, Tablet
Subject Institution/ Collection
Washington, DC, Dumbarton Oaks
Description
Carved limestone panel with three figures. The central figure, K'inich K'an Joy Chitam II, stands in a dancing posture holding aloft a serpent-footed axe and wearing the shell ear-piece of GI. His father, K'inich Janaab Pakal (right), and mother, Lady Tz'akbu Ajaw (left) sit flanking him. Pakal holds a small, full-figure K'awiil and Lady Tz'akbu Ajaw holds a personified Jester God. The text records an anniversary of the death of his ancestor, K'an Joy Chitam I.
Notes or Gallery Text
DN of 4.7.0 moves forward to the anniversary LC of 9.11.4.7.0. CR of 9 Manik 5 Muwan yields a probable 9.14.11.2.7, some three years after K'inich K'an Joy Chitam II's capture by Tonina (see SD149). Schele (1980:308) notes that there is no firm association between the panel and Palenque; the panel may have come from a nearby site.