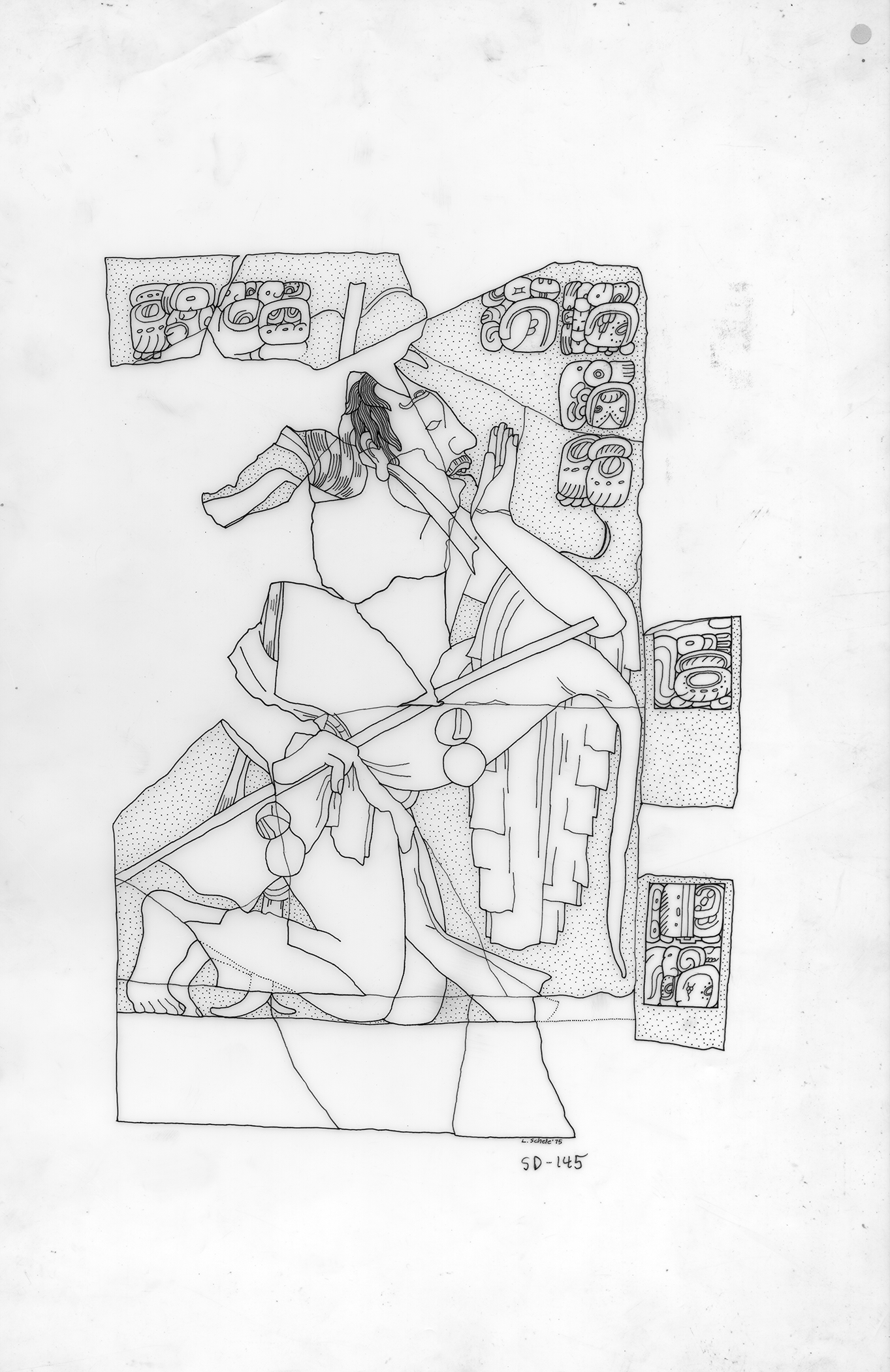 Drawing of Palenque Tablet of the Slave
Artist
Date
1975
Medium
Black ink on mylar
Object Dimensions
17 x 11 1/8 in
Object Collection
Object Number
SD-145
Bibliography
Schele, Linda, and Peter Mathews. 1979. The Bodega of Palenque, Chiapas, Mexico. Washington, D.C.: Dumbarton Oaks: No. 141 
L. Schele, "The Demotion of the Palenque Ruler Chac-Zutz: Lineage Compounds and Subsidiary Lords at Palenque." In Sixth Palenque Round Table, 1986, 1990: 10, Fig. 5
L. Schele, "Genealogical Documentation on the Tri-figure Panels at Palenque." In Tercera Mesa Redonda de Palenque 1979:60, Fig. 18a; C. Baudez and P. Mathews, "Capture and Sacrifice at Palenque." In Tercera Mesa Redonda de Palenque 1979: 38, Fig. 10
E.P. Benson, "Ritual Cloth and Palenque Kings." In Art, Iconography & Dynastic History of Palenque, Part III, Proceedings of Segunda Mesa Redonda de Palenque; 1976: 45-58, Fig. 10
Rights and Image Use
This drawing collection is protected by copyright. The drawings contained in this archive are freely available for scholarly study and academic publication. Please contact LACMA's Rights and Reproductions Department at pseverance@lacma.org for written permission and publication-quality image assets.
Site Found
Chronological Period
Culture
Subject Type
Panel, Tablet
Subject Institution/ Collection
Palenque, Museo de Sitio, Bod. No. 197
Description
Reconstructed fragments from panel known as the "Tablet of the Orator." Kneeling figure with flapstaff and bundle of cloth draped over one arm; a hand close to the mouth with a speech scroll leading to hieroglyphic text gives the panel its modern name. Text records a bloodletting ritual and a Yajawte relationship with K'inich Ahkal Mo' Naab III.
Notes or Gallery Text
Originally located on South Platform of Tower, though this may not have been its original context, see Sculpture of Palenque 1985 (Vol. III):77. See also SD144.
Tags