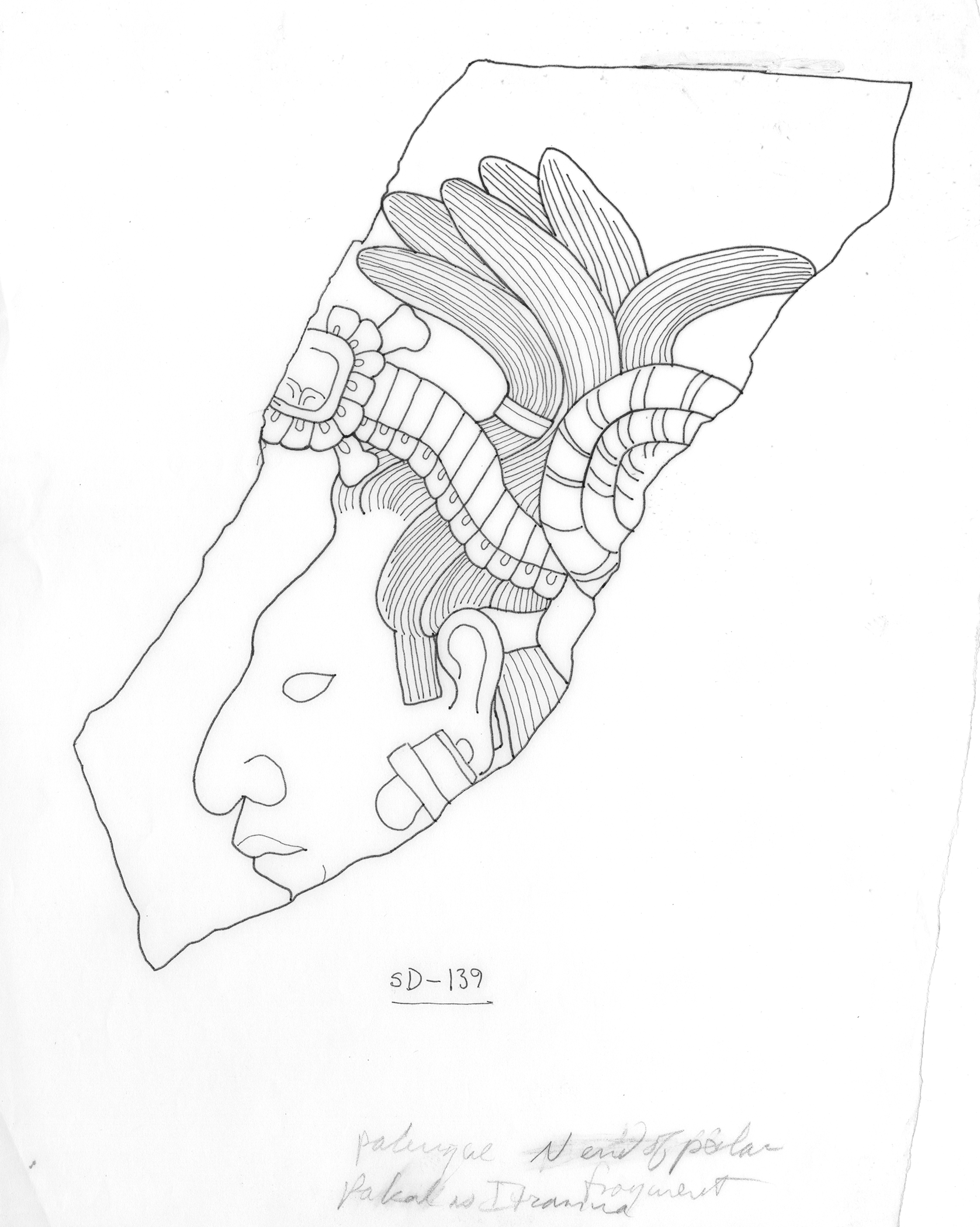 Detail Drawing of Figural Profile
Artist
Medium
Pencil on tracing paper
Object Dimensions
11 x 8 1/2 in
Object Collection
Object Number
SD-139
Annotations
Palenque N end of palace Pakal as Itzamna
Bibliography
Maya Cosmos 1993: dustjacket, frontispiece
Mayer, Maya Monuments Supplement 4 1995:28, Plate 142;
Schele, Linda, and Peter Mathews. 1979. The Bodega of Palenque, Chiapas, Mexico. Washington, D.C.: Dumbarton Oaks: No. 81
Rights and Image Use
This drawing collection is protected by copyright. The drawings contained in this archive are freely available for scholarly study and academic publication. Please contact LACMA's Rights and Reproductions Department at pseverance@lacma.org for written permission and publication-quality image assets.
Site Found
Chronological Period
Culture
Subject Type
Panel, Tablet
Subject Dimensions
34.2cm x 15.5cm x 5.
Subject Institution/ Collection
Palenque, Museo de Sitio, torso and glyph fragment Bod. No. 1144 (Palacio P-No. 42(A3) Escombro Div. Cruz Fol. Pal 1954)
Description
Fragment of a limestone panel. Profile of a male facing left who wears an elaborate counterweight earflare and a large bead necklace. His upswept hair is held with a headdress like that worn by Itzamnaaj or God D. The associated glyphs name K'inich Janaab Pakal, Palenque Ajaw.
Notes or Gallery Text
Torso and glyph fragments were found at the north end of the Northwest Court of the Palace. Mayer (1995:28) reports that the panel is part of a private collection in Brussels; however, the torso and glyph fragment are listed in the Bodega of Palenque (1979:No. 81). See SD143 and 141 for fragment details.