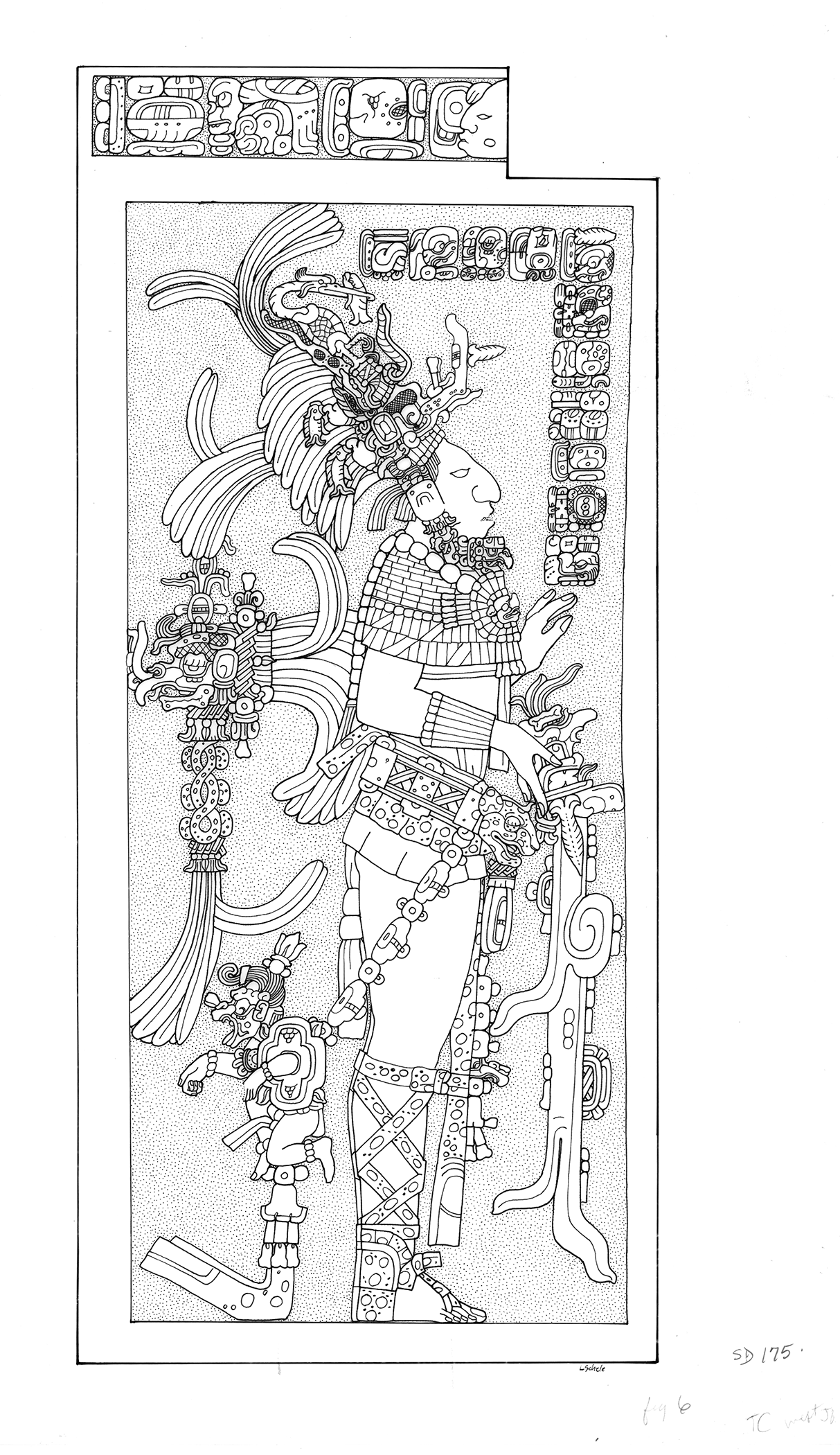 West Sanctuary Jamb from the Temple of the Cross
Artist
Object Collection
Object Number
SD-175
Bibliography
D. Freidel, L. Schele, J. Parker, Maya Cosmos: Three Thousand years on the Shaman's Path, 1993:74-75;
L. Schele, "Accession Iconography of Chan-Bahlum in the Group of the Cross at Palenque." In Art, Iconography & Dynastic History of Palenque, Part III, Proceedings of Segunda Mesa Redonda de Palenque; 1976:Fig. 6;
Notebook for the XVIth Maya Hieroglyphic Writing Workshop:194;
M. Cohodas, "Iconography of the Panels of the Sun, Cross, and the Foliated Cross at Palenque: Part III." In Art, Iconography & Dynastic History of Palenque, Part III, Proceedings of Segunda Mesa Redonda de Palenque; 1976:163, Fig. 4;
E.P. Benson, "Ritual Cloth and Palenque Kings." In Art, Iconography & Dynastic History of Palenque, Part III, Proceedings of Segunda Mesa Redonda de Palenque; 1976:45-58, Fig. 2;
Rights and Image Use
This drawing collection is protected by copyright. The drawings contained in this archive are freely available for scholarly study and academic publication. Please contact LACMA's Rights and Reproductions Department at pseverance@lacma.org for written permission and publication-quality image assets.
Site Found
Chronological Period
Culture
Description
West sanctuary jamb from the temple of the cross. k'inich kan b'alam ii wears an elaborate costume that includes a skeletalized bird backrack. he holds a quadripartite badge, personified perforator, in his right hand. the text in the upper right names kan b'alam ii as the child of k'inich janaab pakal.
Notes or Gallery Text
The text above the panel reads wak chan ahaw ("six sky lord") u-k'ul kaba ("its holy name") u-ku-nu-il ("his seat") ah-? ("he of ?"). for panel from east sanctuary jamb see SD-176.