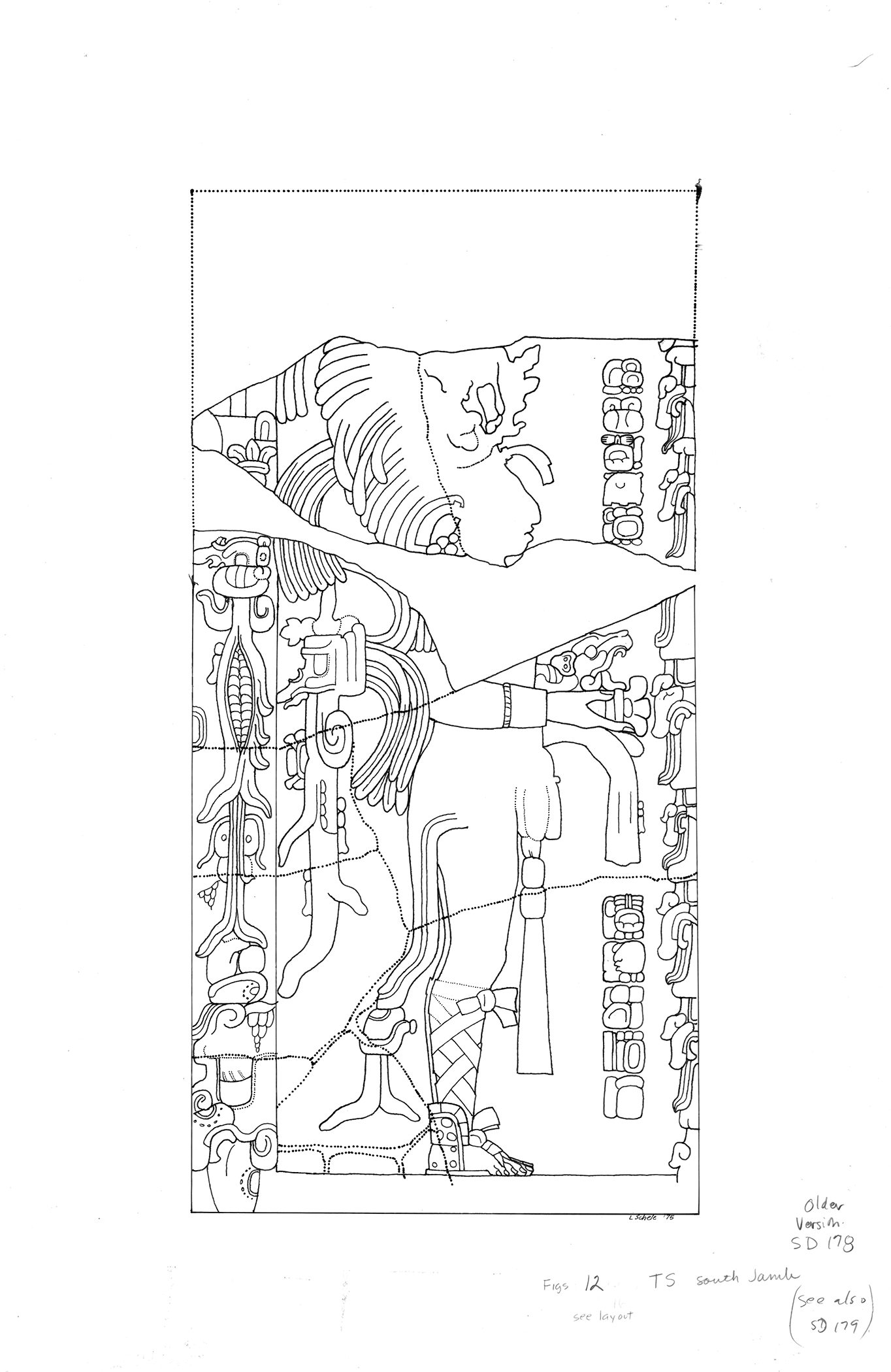 Drawing of the South Jamb from Temple of the Sun
Artist
Date
1975
Medium
Black ink of mylar
Object Dimensions
17 x 11 in
Object Collection
Object Number
SD-178
Annotations
Older version [br] TS south jamb [br] Figs 12 see layout
Bibliography
L. Schele, "Accession Iconography of Chan-Bahlum in the Group of the Cross at Palenque." In Art, Iconography & Dynastic History of Palenque, Part III, Proceedings of Segunda Mesa Redonda de Palenque; 1976: Fig. 12
L. Schele and D. Freidel, A Forest of Kings: The Untold Story of the Ancient Maya 1986: 234-261
M. Cohodas, "Iconography of the Panels of the Sun, Cross, and the Foliated Cross at Palenque: Part III." In Art, Iconography & Dynastic History of Palenque, Part III, Proceedings of Segunda Mesa Redonda de Palenque; 1976: 163, Fig. 4
Notebook for the XVIth Maya Hieroglyphic Workshop 1992: 177-198
E.P. Benson, "Ritual Cloth and Palenque Kings." In Art, Iconography & Dynastic History of Palenque, Part III, Proceedings of Segunda Mesa Redonda de Palenque; 1976: 45-58, Fig. 4
Rights and Image Use
This drawing collection is protected by copyright. The drawings contained in this archive are freely available for scholarly study and academic publication. Please contact LACMA's Rights and Reproductions Department at pseverance@lacma.org for written permission and publication-quality image assets.
Site Found
Chronological Period
Culture
Subject Type
Panel, Tablet
Description
Composite drawing of fragments from south sanctuary jamb, Temple of the Sun. The image depicts K'inich Kan B'alam II standing in front of a Witz Deity that has been decorated with fire and maize vegetation. In front of him rises a stack of repeating supernatural faces. Kan B'alam II holds a jaguar head or figurine that rests on a miniature bench. He wears an elaborate backrack composed of what appears to be the Quadripartite Badge.
Notes or Gallery Text
The text in front of K'inich Kan Balam II is badly eroded.