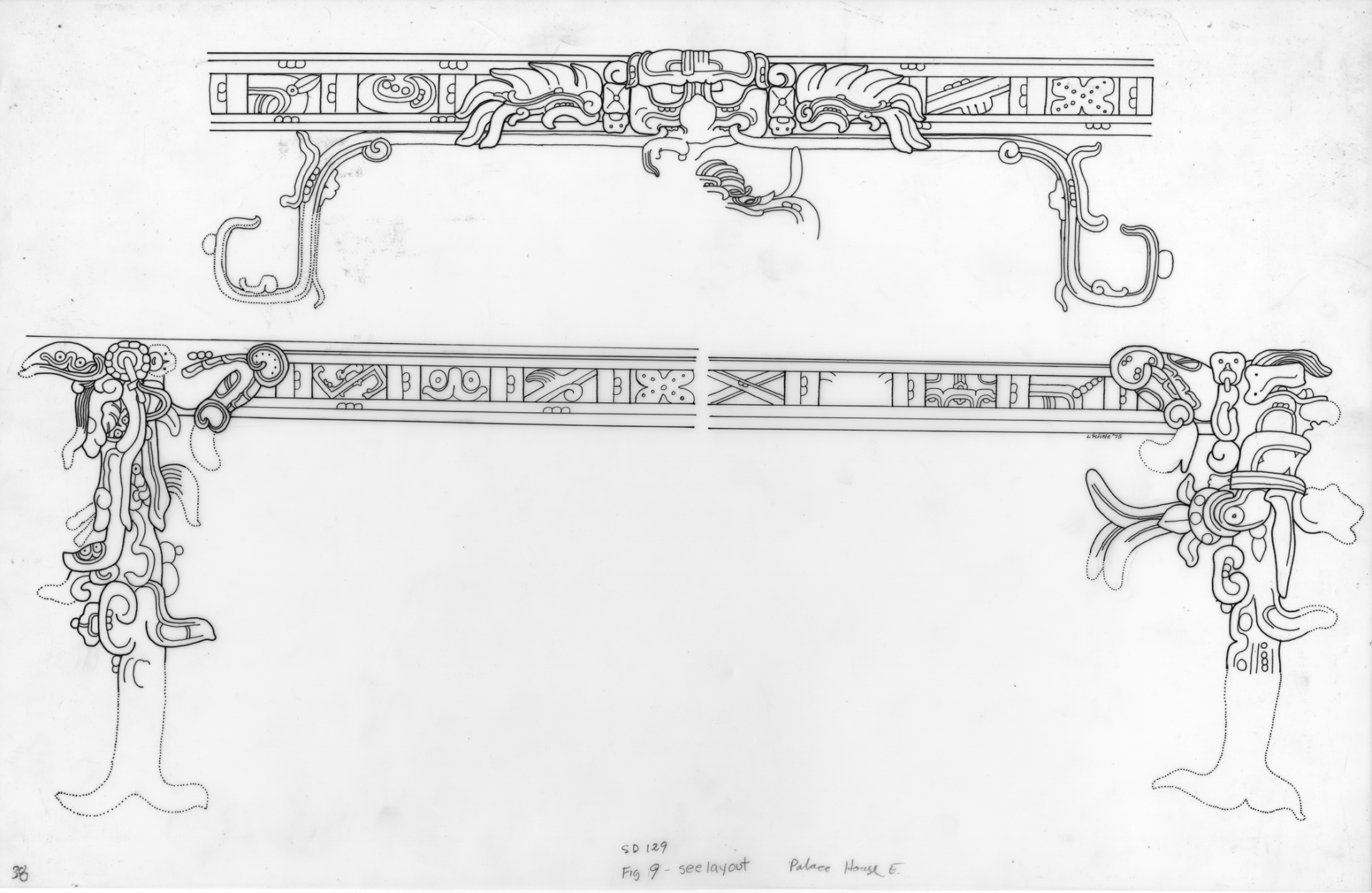 Drawing of skyband from Palenque Palace House E
Artist
Date
11 x 17 in
Medium
Black ink on mylar
Object Collection
Annotations
"Fig. 9 see layout Palace House E"
Bibliography
M.G. Robertson, The Sculpture of Palenque Vol. II, 1985: Figs. 79-89;
L. Schele, Eighth Palenque Round Table 1996:26, Fig. 10a; 
L. Schele, "Accession Iconography of Chan-Bahlum in the Group of the Cross at Palenque." In Art, Iconography & Dynastic History of Palenque, Part III, Proceedings of Segunda Mesa Redonda de Palenque; 1976:19, Fig. 9
Rights and Image Use
This drawing collection is protected by copyright. The drawings contained in this archive are freely available for scholarly study and academic publication. Please contact LACMA's Rights and Reproductions Department at pseverance@lacma.org for written permission and publication-quality image assets.
Site Found
Chronological Period
Culture
Subject Type
Facade
Subject Institution/ Collection
Palenque, House E, Bicephalic Room
Description
Reconstruction of stucco relief sculptures from "Bicephalic Room," House E, Palace. The top drawing shows a Celestial Bird and skyband, from the northern wall. The bottom drawing represents a second two-headed deity, a composite of skyband segments from the west and east walls. The skyband on the western wall has a saurian or reptilian head with Venus markings; the rear head on the eastern wall is composed of an upside-down Quadripartite Badge.