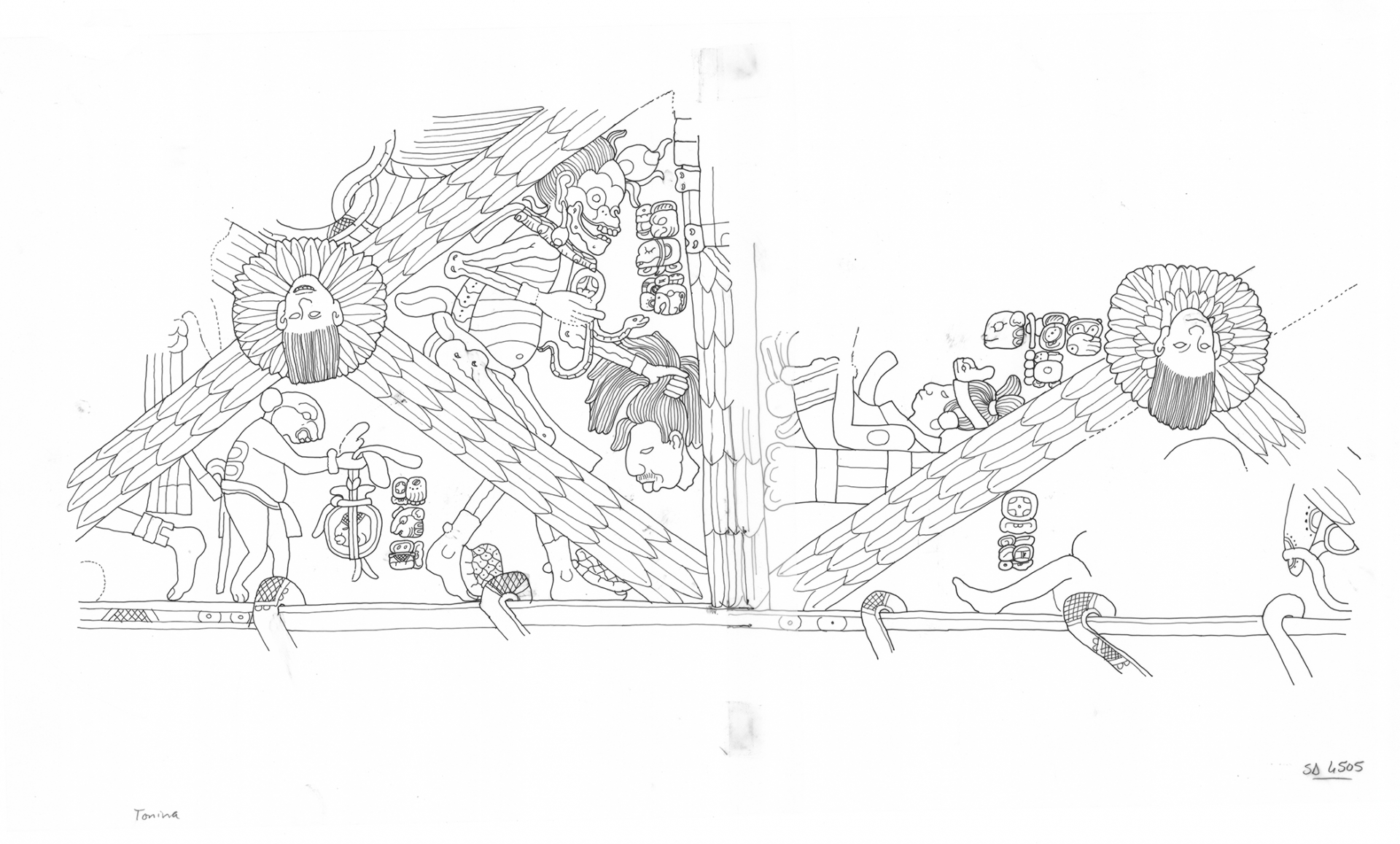 Detail of Stucco Frieze Depicting Skeletal Figure Carrying Severed Head and Crossed Bands
Artist
Medium
Black ink on mylar
Object Dimensions
11 x 20 in
Object Collection
Object Number
SD-6505
Annotations
Tonina
Rights and Image Use
This drawing collection is protected by copyright. The drawings contained in this archive are freely available for scholarly study and academic publication. Please contact LACMA's Rights and Reproductions Department at pseverance@lacma.org for written permission and publication-quality image assets.
Site Found
Geographic Region
Chronological Period
Culture
Subject Type
Architectural frieze
Description
Stucco wall known as "Mural de las Cuatros Eras." The left panel presents a large Skeletal God A' wearing turtle shells atop his feet and holding a decapitated head; a pattern of feathers forming crossed bands with a central medallion containing a disembodied head; and a small yellow pocket gopher carrying a jar containing a head; glyphic text identifies these characters. The right panel is more eroded but contains the same crossed bands of feathers and disembodied head pattern; a small individual reclines on a seat or bed of human bones.
Notes or Gallery Text
Drawn after a postcard published in Mexico. Associated image: Left side only - Freidel, David A., Linda Schele, and Joy Parker. 1993. Maya cosmos: three thousand years on the shaman's path. New York: W. Morrow:320, Fig. 7:25; S. Martin and N. Grube, Chronicle of the Maya Kings and Queens: Deciphering the Dynasties of the Ancient Maya 2000:185 bottom.